A cash prize of GHS10,000.00 and 40-inch TV was awarded to 4 staff each as the Overall Best Workers for the year 2021. The Awardees who had distinguished themselves in their various field of work are Mr. Noah Pomery (from APM Factory), Mr. Patrick Nkrumah (from TBU Factory), Madam Doris Ansere (from Division 4 in Estates Operation) and Madam Patience Botwe (from Division 8 in Estates Operation).
The 16th Best Workers' Award ceremony which was a modest but colourful and brief event was held on Thursday, March 24, 2022, at Abura Canteen Forecourt.
In all, forty-one (41) workers were awarded from various Departments/units. The first Best took home gas cooker, a regulator, cylinder, and a certificate of honour; Second Best also received tabletop fridge, Blender and certificate of honour with the third Best also receiving a 40-inch TV and a certificate of honour.
At the ceremony the Managing Director, Mr. Lionel BARRE commended all staff for their outstanding performance and encouraged everyone to keep it up as the Company has more to offer.
Addressing the gathering, the Human Resources Manager, Mr. Howard Y. Nanevie indicated that although Ghana is yet to achieve a herd immune of 60%, GREL has made a lot of strides by vaccinating 87% of its workforce. For him "that is the reason behind this mass gathering today and we should congratulate ourselves for that great achievement making us with the benchmark within the SIFCA Group inter alia".
The Union Chairman, Mr. Johnson Akuamoah on behalf of the Unionized staff thanked management for their unfailing support throughout the past years especially during the covid-19 pandemic. He also seized the opportunity to plead with management to find a means to come to the aid of staff in a form of COLA (cost of liv-ing allowance) as the current Ghanaian economy has worsened thereby affecting the purchasing power of staff due to the massive depreciation of the Ghana Cedi.
The Managing Director, Mr. Lionel BARRE, Giving his speech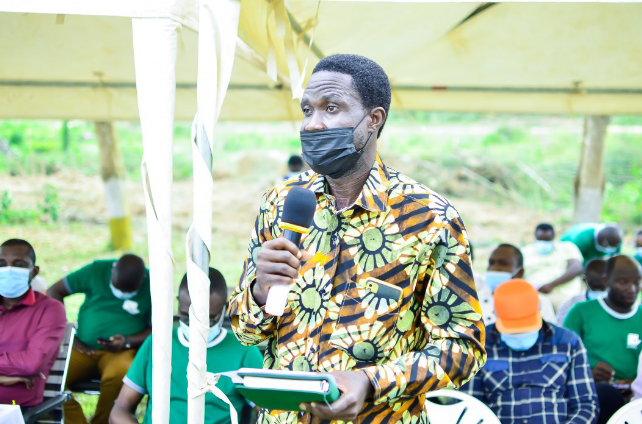 The Union Chairman Mr. Johnson AKUAMOAH, Giving his speech