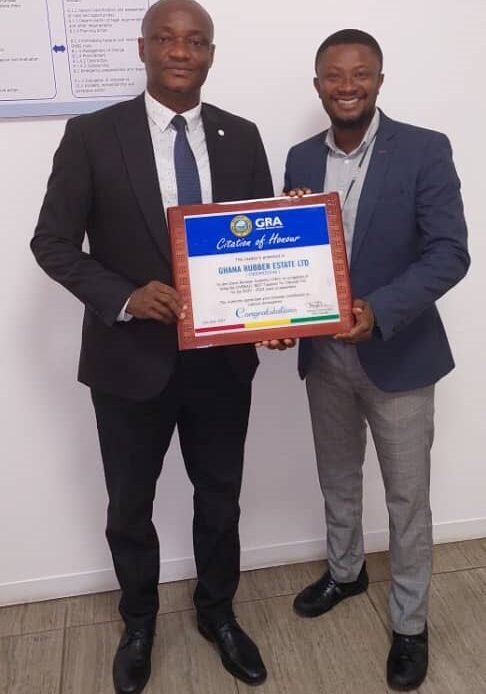 The Ghana Revenue Authority (GRA) has recognised and appreciated Ghana Rubber Estates Limited (GREL) with a certificate for being the best company in tax payment and compliance at the Taxpayer Service Centre in Takoradi.
The award is also for other companies and individuals to know that paying taxes and filing returns is vital to economic growth and development.
"This certificate enhances your corporate image, you have been very loyal and consistent over the years, and we say congratulation, we recognise your effort", Takoradi Area Director of GRA, Joseph Boateng, told B&FT at a brief ceremony. He mentioned some critical areas considered in tax obligation as "the filling of returns and other documents, the payment, 'which is very difficult for some people, but these days, it has been made very easier' and the reporting behaviour.
"This programme is not limited to only Takoradi; from here, selected taxpayers, such as Karl Tire and Carlos Supermarket, will be part of the regional ones to be organised soon. The grand event is coming on in October in Accra, a three-stage selection process, and it is my prayer that at the end of the day, a taxpayer from Takoradi will emerge as the overall taxpayer in Ghana," he added. He reminded all income-earning individuals, including self-employed, to file their returns by the end of each month, file their Annual Return of Income at the end of the year, and submit it at the GRA offices throughout the country.
Joesph Appiah, Financial Controller at the Ghana Rubber Estates Limited, thanked the GRA for the recognition; "We have received these awards on a few occasions.
"As a corporate body, we discharge all our responsibilities, not only the ones which are mandatory but even those which are convention. Yet, we failed to get any protection for our investment; recently, some of our immature plantations of about 30,000 trees were cut down, costing thousands of Euros. We have galamsey pits right in the middle of our plantation; what is being done about it? He asked. What even hurts most is that we have people exporting raw rubber, which we use to process, to make money to pay our taxes.  He continued, "The irony is that government is a shareholder, gov't owns 26.75% shares. Last year, we paid 700,000 Euros as dividends to the government for the 2021 financial year, and for the 2022 financial year, it will be more than One Million euros as dividends to the government. This confirms that GREL's investment, like other industries adding value to the raw materials produced in the country, should be protected as it has the advantage of creating employment and generating income for the government. Although we have gotten an award for our contribution towards tax, if we can process more rubber without any hindrances, we can even win an award at the national level".
By Juliet Aguiar DUGBARTEY, Takoradi.